Gone are the days when most treatments requiring extensive hospital stays and unpleasant patient recovery. Endoscopic surgery has evolved into an established surgical field in most therapeutic areas due to its promise of improved results, faster recovery time, and lower costs. Minimally invasive surgery is transforming the healthcare industry. Laparoscopy has advanced significantly over the years as a result of increased application and technical advancements in the equipment used says, Dr. Usha M Kumar, the best Gynaecological Endoscopic Surgeon in Delhi.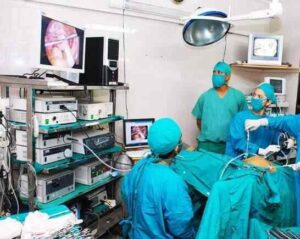 Gynaecological endoscopy is a surgical procedure that assists in the diagnosis of the most prevalent female disorders, such as vaginal bleeding, infertility issues, and endometrial polyps (noncancerous growths on the inner uterine wall). To identify such issues, it uses a small and slender optical instrument.
There are two types of gynaecological endoscopy.
Hysteroscopy: It involves inserting a small optical tool into the uterine neck to inspect the inside of the uterine cavity and, in certain situations, to remove endometrial polyps.
Laparoscopy: A minimally invasive procedure that examines the Fallopian tubes, ovaries, and uterus through a small incision on the abdomen.
Gynaecological endoscopy has the following advantages:
Recovery time is minimized
Lesser risks of infections, or other side-effects
Preparation
Endoscopy preparation does not need much effort. Before this operation, you must go through the following procedures:
The preparation is determined by the type of operation to be performed. Imaging tests may be required. In addition, the doctor may advise an enema or even fasting.
You must inform your doctor about any medicine you are taking, including supplements or over-the-counter medications. Stop taking your medicines at least 24 hours before the surgery.
Procedure Followed
The majority of the procedure is performed under general anesthetic.
Once you are unconscious, a catheter (a tiny tube) is placed to collect urine, and carbon dioxide is used to fill your abdomen. By keeping the abdominal wall away from your organs, the gas protects them. This decreases the possibility of injury.
The endoscope will be inserted through a small incision in your navel by the surgeon. The endoscope transmits images on a screen, providing your doctor with a clear image of your organs.
In conclusion, gynaecological endoscopy is one of the latest, most effective and minimally invasive surgical procedures used both for diagnostic purposes and for the treatment of gynaecological disorders.
Her experience in endoscopic methods is very beneficial to cancer patients. Dr. Usha M Kumar is a well-trained and the best Gynaecological Endoscopic surgeon in Delhi who provides the best care for women who are suffering from cancer or other associated concerns. Dr. Usha ensures a high degree of comfort and safety for patients during the procedure.
Do you have a query that can't wait? Ask our experts