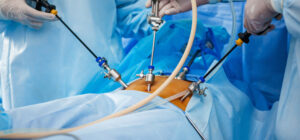 Laparoscopic surgery is used to diagnose and treat a number of conditions in the abdominal and pelvic region using a minimally invasive surgical procedure. During the procedure, you can see the signs of endometriosis as well as other potential problems say, Dr. Usha M Kumar, the best Gynecologist Laparoscopic Surgeon in Delhi.
It involves a small cut during the procedure. A laparoscopic gynecologist inserts a thin camera-equipped tube, called a laparoscope, through a tiny incision in order to carefully examine the organs in that area. The surgeon is able to insert a surgical instrument through an additional incision to treat a problem. Unlike other types of surgery, this one is less stressful and less complicated both on a mental and physical level. The Laparoscopic surgeon makes a small incision in your skin to remove cysts. Following cyst removal, the cuts are stitched with dissolvable stitches and closed.
Dr. Usha M Kumar is an experienced and best gynecologist laparoscopic surgeon in Delhi. She has expertise in robotic surgery as well. Both in India and overseas, she has performed several gynaecological procedures.
Get advice from the best Laparoscopic Surgeon in Delhi – Dr. Usha M Kumar
You can trust Dr. Usha M Kumar for the best advice and treatment from the best Gynae Laparoscopic Surgeon in Delhi. Allow yourself to be treated by her skill in laparoscopic gynaecological surgery to keep your health in top condition. Dr. Usha, as a gynae-laparoscopic surgeon, utilizes non-invasive methods to treat or diagnose reproductive health issues.
Her patients like her because she's loving and friendly to them and treats each patient as an individual, not as a case. Her major goal is to give all of her patients the "best treatment and offer satisfaction." She completed a Diploma in Gynae laparoscopic Oncosurgeries at the Galaxy Institute of Pune under the supervision of Dr. Shailesh Puntambeker. She did many successful laparoscopic, uterine, endometrial, ovarian, and cervical cancer procedures. She effectively managed several difficult cases of women's cancer and achieved positive outcomes.
How is Gynae Laparoscopy Helpful?
The best gynae laparoscopic surgeon in Delhi performs this surgery to help in the following ways:
Diagnosing Diseases
Women who have symptoms of infection or disease in their reproductive organs or region should consult with the best gynae laparoscopic surgeon in Delhi as soon as possible to ensure the diseases are diagnosed at the earliest.
Diseases Treatment
The best laparoscopic surgeon in Delhi can treat diseases and infections in the reproductive organs such as cancers, cysts, and fibroids by gynae laparoscopy.
Non-invasive Procedures
Gynecologic laparoscopy is a noninvasive method used to conduct numerous treatments in a woman's reproductive region that do not require a big incision and have a quick recovery time.
Laparoscopic procedures are performed for several reasons
Here are the reasons why laparoscopy is done:
Diagnose and treat pelvic inflammatory diseases, endometriosis, and ectopic pregnancy.
Find out what issues women face when trying to conceive. It can include cysts, fibroids, adhesives, and infections.
Finding out that cancer from another part of the body reached the abdomen.
When initial tests do not indicate a cause for infertility, the gynecologist performs a laparoscopy.
Treatment for ovarian cysts is simply a phone call away in Delhi. During fertilization, a sac or follicle contains the fertilized egg. Follicles and sacs break open and produce eggs in most cases. When the sac doesn't break, it forms a cyst on the ovary.
In a few months without treatment, most ovarian cysts disappear in South Delhi without treatment. There are several factors that determine whether a treatment is required or not:
Size and growth pattern of cysts.
The significant symptom if you have
Being through menopause is that you are at a higher risk of getting ovarian cysts or cancer.
Best Gynecologist Laparoscopic Surgeon in Delhi
Dr. Usha M Kumar is the best Laparoscopic Surgeon in Delhi. This is evident from the positive feedback she has received from previous patients. Dr. Usha and her clinic would be an excellent choice if you are looking for the best laparoscopy clinic/hospital in Delhi and the best laparoscopic surgeon in Delhi. Don't just believe our word for it; read the testimonies of other satisfied patients to see for yourself. Better yet, schedule a consultation with the best gynae laparoscopic surgeon in Delhi right now and make your own decision!