Dr. Usha M Kumar is an experienced and the best Gynaecologist in South Delhi. Dr. Usha has almost a two decade of experience serving in Max Superspeciality Hospital Saket, New Delhi and has helped patients from all socioeconomic backgrounds. She delivers exceptional care to people with gynaecological disorders and has a high success rate.
Girls and women come here to receive the best care. She has provided her services in and around Delhi NCR and is a well-known name in her area. With her calm and graceful attitude, she has a kind and friendly persona and a soothing impact on her worried patients. Her mission is to assist patients in the most approachable way possible in coping with changes in their bodies.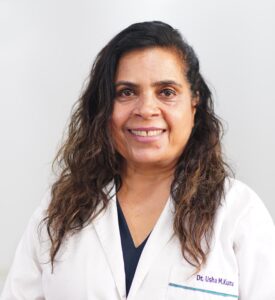 She gives her patients her undivided attention and care. She is also well-respected and recognized among Gynaecologists. She has a strong interest in endoscopic operations for infertility and cancer patients. With the objective of providing excellent and reasonable services to all needed persons in order to achieve the best possible results using safe and cutting-edge technology.
She has demonstrated remarkable expertise by presenting successful examples in the treatment of infertility. She has demonstrated her worth by assisting countless couples in experiencing the joys of motherhood. Many people in Delhi seek preventative treatment and advice from Dr. Usha. She has demonstrated persistent devotion to addressing serious situations and exceeding her patients' expectations.
She can be consulted for any concerns you are having with your body as a woman, as well as any health issues that women of all ages are experiencing. She will make sure that you have a positive experience.
Book an appointment with the best gynaecologist in South Delhi
Don't hesitate to approach Dr. Usha M Kumar about any women's condition. With over 20 years of expertise, she is not just the best Gynaecologist in Delhi, but also the best gynae laparoscopic surgeon in Delhi if you want laparoscopy treatments.
Don't be concerned about money because she is recognized for her kindness and understanding. She will not charge you an extra pie since her priority is your health, not money.
But why waste time looking when you can call us right away to find out more? Make an appointment with the best Gynaecologist in Delhi now! You may reach her at https://www.drushamkumar.com