Pregnancy is an extremely significant stage in any woman's life. It is vital to take great care in order to provide the best care and treatment for both the newborn and the mother. It is essential to make sure that you, as a mother, and your unborn child are well taken care of from the start of your pregnancy. Antenatal care services are the most important healthcare provided to any woman during this period in India. You may always schedule an appointment with Dr. Usha M Kumar, the best Gynaecologist in Delhi, to learn some healthy pregnancy tips and deliver a healthy and adorable baby without complications.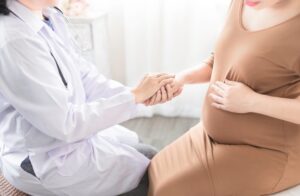 Our expert Dr. Usha M Kumar, the best gynae Laparoscopic surgeon in Delhi, gives you with the best advice and tips to keep you informed about the various Antenatal Care during the whole procedure. We provide Antenatal Care in Delhi to ladies who are pregnant. When it comes to Antenatal care services in Delhi, Dr. Usha's Clinic is one of the most recommended clinics in Delhi.
Dr. Usha M Kumar has over 20 years of expertise and has treated a large number of patients. You can take the antenatal consultation for a better health outcome.
Even now, many women have concerns about Antenatal care services. Yes, antenatal care is essential for any woman who is pregnant or expecting to have a baby. This can help you keep track of how well the baby is growing inside you and also allow you to welcome it into the world without any complications right from the start. You may monitor your baby's health on a regular basis using blood tests and ultrasound scans, which can be done on a monthly basis during the procedure. Women suffering from diseases such as ectopic pregnancy can also be readily monitored in order to have a safe and healthy pregnancy.
Dr Usha M Kumar gives you with the best solution for a healthy pregnancy and optimal health care. When you decide to have a child, you can always make an appointment with our experts who can provide you some basic tips and instructions to keep you healthy. Antenatal care services serve an important role in ensuring that women have the safest pregnancy possible and that their babies are delivered safely. Pregnancy is one of the most critical times in a woman's life, thus these items are crucial. So, take adequate precautions ahead of time so that they do not have any complications at the last minute.
If you are expecting your first child, you should schedule at least ten prenatal consultations with the best Gynaecologist in Lajpat Nagar, Delhi. If you already have a child and want to have another, you will need to see your doctor at least seven times. If you have any medical issues during your pregnancy, you will need to schedule additional checkups. In Delhi, she counsels her patients and offers prenatal care.