It is important to keep both the mother and the child healthy and safe. Pregnancy is an important stage in the lives of every woman in the world. She always makes certain that the baby has all it needs to be welcomed with love and health. When the due date to welcome the baby into this world arrives after a lot of care and love, mothers tend to experience a lot of stress and nervousness that cannot be explained. Labor and delivery in Delhi must be done with sufficient care and advanced solutions to keep both the mother and the baby healthy and happy. Dr. Usha M Kumar is the best doctor for Normal Delivery in Delhi. She provides the best and safe maternity service in Delhi, India.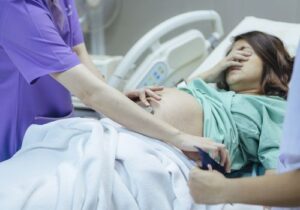 The delivery must be performed by some of the best doctors who have dealt with instances and can offer the best treatment to the mother while she is in labor pain. We have such an efficient team in our clinic in Lajpat Nagar, Delhi who is capable enough to handle both routine and complex cases to aid the mother and baby in the best way possible.
Best Gynecologist In Delhi For Normal Delivery
Dr. Usha M Kumar has vast experience in gynecology and practices in Max Superspeciality Hospital, Saket, Delhi. She has completed innumerable deliveries using the most advanced gynaecological equipment in the medical industry. When it comes to welcoming a baby, it is essential to get counsel from the best Gynaecologist in Delhi who can not only offer you with the best tips but also ensure that you are provided with a lot of care till you deliver.
Labor and delivery are performed by many hospitals in India; nevertheless, it is important to have the delivery performed by the best and most trusted doctor who can understand your health and gives you the best possible outcomes.
Dr. Usha M Kumar ensured that the labor and delivery are carried out in the safest possible manner. She has a lot of experience executing high risk pregnancies in their lives. She prepares the mother with standard delivery instructions and also makes certain that the mother and infant are well cared for. The facility has cutting-edge equipment and infrastructure to keep the baby and mother healthy and comfortable. You can always rely on Dr. Usha while looking for the best Gynaecologist Doctor for Normal Delivery since she provides the best treatments to the patients at economical cost.
Health is one of the important things women should take care of when it comes to planning a baby. She needs to take care of herself as well as the life which is growing inside her. We help every woman to overcome this phase without any kind of trouble by providing them with the best medication and treatment that can help them in leading a stress free and comfortable pregnancy life. This is the time when women have to consult a best Doctor for Normal Delivery in Delhi and get the treatment done for a smooth labor and delivery.