Dr. Usha M Kumar is a well-known and the best Gynecologist in India, with more than 20 years of experience in numerous treatments in these disciplines. She is a dedicated and expert Gynecologist in India who is always available to her patients for support and professional guidance. You can consult all major and complex gynecological surgeries, uterine bleeding, and cervical cerclage; in addition to the women's general health checkups with Dr. Usha. Whether you are expecting your first child or are experiencing other gynaecological difficulties, she provides her patients the attention and care they need.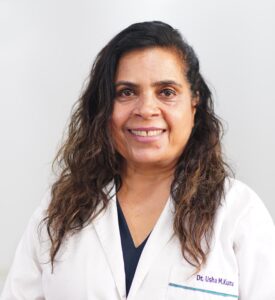 Dr Usha M Kumar has trained under some of the most renowned Gynecologists. She conducts regular CMEs to help other Gynecologists in various parts of India. She has presented papers in International events in Muscat, Afghanistan and Middle East. Her experience in the field of laparoscopy, hysterectomy and the use of endoscopic surgery has helped her generate minimally invasive treatment for complicated cases. Practicing in Max Super Specialty Hospital, Delhi she is one of the most sought after and best Gynaecologist Laparoscopic surgeon in India.
She is a pioneer in the use of modern technology in the field of gynaecological services. She has been invited to speak across popular media channels and events in India. Dr Usha provides gynecological care to adolescents and young adults.
Looking for the best Gynaecologist in India?
Dr. Usha Kumar is a veteran Gynecologist in India with over 20+ years of proficient experience. Having performed over 10,000 surgeries so far, Dr. Usha has also managed to establish herself as a top-notch gynecologist in India.
She offers special gynaecological care for people of all stages. She has helped many patients with complex reproductive treatments, gynecological laparoscopy, menstrual bleeding, irregular periods, PCOD, PCOS, gynaecological oncology cases, child birth, antenatal care, gynaecological endoscopic surgeries and more. If you are looking for an advice or second opinion you can book an appointment with her over call at +91-9999293741 or visit: https://drushamkumar.com/ for more information.